Candide x Media
---
Audio + Visual Works
Hey! 👋🏿 My name is Candide, and I'm passionate about independent and accessible digital media production.

I've worked and volunteered for several organizations in the arts, media, academic, and non-profit sectors as a communication intern and research assistant.

I am now working towards a career as a cultural industry worker and multimedia producer, with the goal of empowering burgeoning BIPOC creatives to tell their own stories.

In my free time, I take pictures, edit videos, DIY things, plan events, and write (atm: a Master's thesis).
IN SEARCH OF... | Lakeshore Arts
Freelance video editing project for Lakeshore Arts
---
Element of Theatre Video - Summer 2021 | Lakeshore Arts
Freelance video editing project for Lakeshore Arts
---
In My Tongue | Webdoc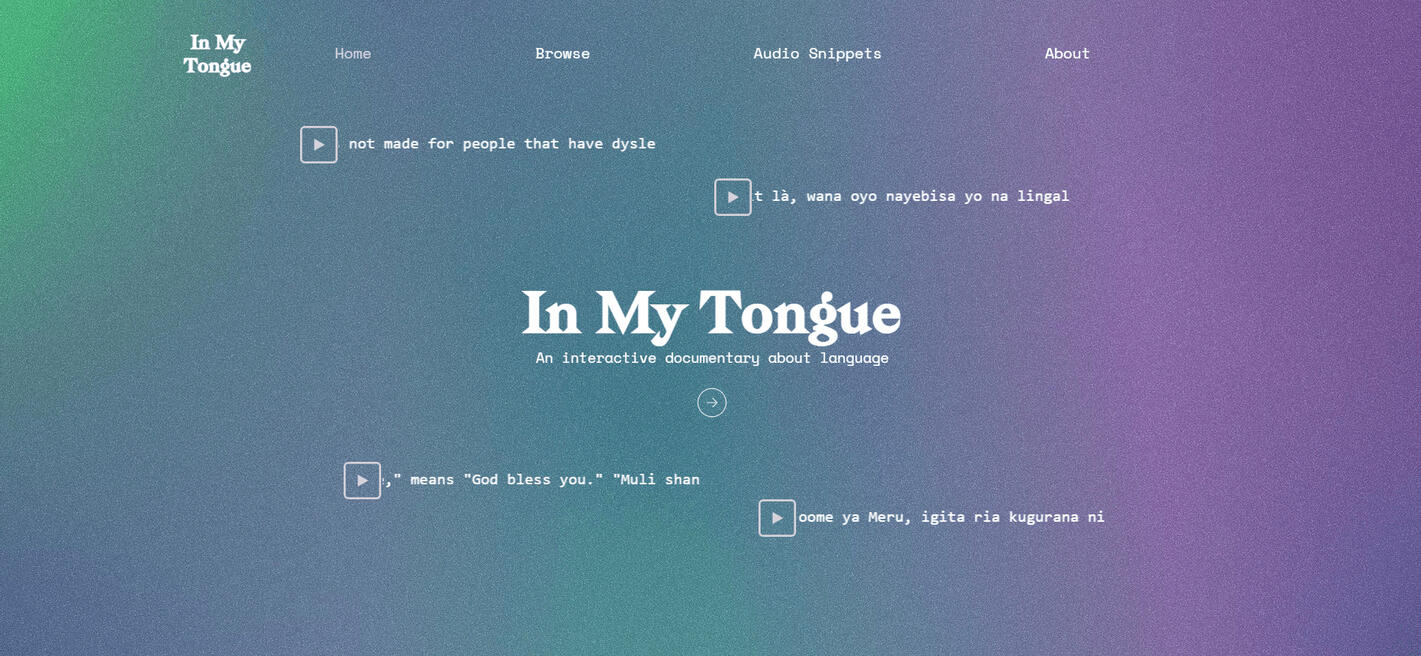 In My Tongue is an audio-based, multilingual interactive documentary that investigates the relationships people have with the languages they speak.

A series of interviews were conducted from January to April 2021 with nine people from Canada and Kenya in several languages including Bemba, English, French, Kikuyu, Lingala, Meru and Swahili.

The project leads are Candide and Trish, OCAD U Digital Futures graduate students who conducted and participated in the interviews. Candide is a Canadian of Congolese descent and Trish is a Kenyan.

The series of audio snippets explores the many layers, nuances, and politics that reside within and between languages.
---
403 FORBIDDEN Exhibition | Artist Talks
403 FORBIDDEN explores the nuances of how identity and ownership are maintained and negotiated in digital spaces. Participating artists Julia Makivic, Zhazha Zhang, and Jenn Liv explore the connection between the digital and physical realms, considering notions of identity and presence. Through artworks that are immersive and relatable, 403 FORBIDDEN seeks to answer questions of how we define ownership in a space where privacy and ownership are abstract.

As a co-curator of this exhibition, I was in charge of editing our series of interviews using footage sent by the participating artists.

Curators:
Neo Nuo Chen
Razieh Pourfazli
Kalina Nedelcheva
Candide Uyanze
Na'ama Freeman
---
What is a Family? | Documentary
What is a Family? The Struggle for Equal Benefits recounts Akerstrom and Moore v Canada (Treasury Board), a six-year battle against the Canadian Human Rights Tribunal to recognize equal benefits for partners of Public Service employees. For this documentary, I was in charge of editing, motion graphics, and captioning.
---
uOttawa STEAM (STEM + Arts) Fest 2020 | Promotional Teaser Video
As Co-President of the uOttawa STEAM (STEM + Arts) Club, I created this promotional video using Kdenlive and Glimpse for the 2nd edition of our conference. STEAM Fest is aimed at students from all fields who are interested in stepping out of their comfort zone and exploring the link between arts and STEM.
---
Amethyst Women's Addiction Centre | Video Series
For Amethyst's 40th Anniversary, I volunteered to produce a series of videos that tell the story of the women who have been served by and worked for the Amethyst Women's Addiction Centre.
---
Indigenous Art with Jaime Koebel
Jaime Koebel is an accomplished multi-disciplinary Cree-Métis artist, founder of the Indigenous-based tour company in Ottawa called Indigenous Walks, an advocate for Indigenous rights and a mother of three children.

This project's purpose is to highlight the relationship between Indigenous culture and art as a form of expression. We believe there's a certain fluidity between the two and thought it would be interesting to channel that through film.

The following short film is a lens into her dancing, painting, drawing as well as other aspects of her life as she talks about her time in Ottawa as an Indigenous artist.

Produced by:
Catherine Burge
Siqi Jiang
Chloé Madigan
Candide Uyanze
For the course CMN2167 - Video 1 with Izabel Barsive at the University of Ottawa
---
Silkscreening | Sérigraphie
As President and Founder of the DIY Club (2017-2018), I decided to document our very first workshop, held on October 10th 2017 and hosted by Sarah Lee!